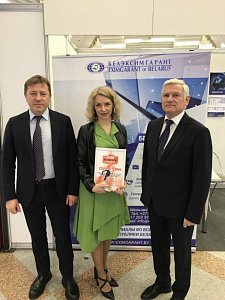 Minsk hosted the XXIV International Architectural and Building Exhibition "BUDEXPO - 2022" on March 16-18, 2022 – one of the largest exhibition projects in the field of construction in Belarus.
Every year BUDEXPO opens a new construction season representing the whole range of topical issues in the construction of modern housing. This is a dialogue platform that brings together developers, architects, builders, manufacturers and suppliers of materials, as well as companies providing related services in the real estate market.
Among the participants of the exhibition were both Belarusian enterprises as «MAPID», «Minskzhelezobeton», «Minsk Motor Plant», «Mogilevliftmash», «Granit», OJSC «Minsk House-building Plant», «Institute Belgosproekt», and various organizations from the Russian Federation.
Eximgarant of Belarus Minsk Branch held a number of meetings and negotiations with potential clients, and provided information on the instruments of financing and export insurance within the framework of the Decree of the President of the Republic of Belarus dated August 25, 2006 № 534 "On promoting the development of exports of goods (works, services)".
Left to right: the diploma of the participant of Eximgarant was presented by Deputy Minister of Architecture and Construction of the Republic of Belarus Alexey Ananich (left) and Chairman of the Union of Builders of the Republic of Belarus Anatoly Nichkasov (right)