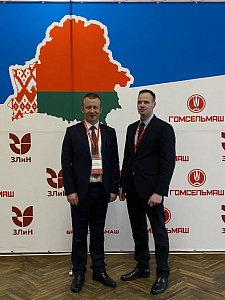 Gomel hosted the annual dealer conference of OJSC «Gomselmash», OJSC «Gzlin» and JSC «Bryanskselmash» on January 26-27, 2022.
The conference was attended by representatives of more than 140 dealer centers from Russia, Ukraine, Kazakhstan, Moldova and Poland, as well as financial partners, including Eximgarant, the Development Bank of the Republic of Belarus, Promagroleasing. Eximgarant provides insurance support to enterprises of the Gomselmash holding in terms of providing coverage under the Decree of the President of the Republic of Belarus dated August 25, 2006 №534 in the implementation of export deliveries.
Alexander Timoshishin, Eximgarant of Belarus Deputy General Director, and Denis Naseko, Director of Gomel Branch (in the photo), held a number of meetings and negotiations on financing and insurance of both the holding itself and Belarusian equipment buyers from abroad.