During 23th–25th of September 2015 the Belarusian-Slovenian investment forum, which was aimed at the development of Belarusian-Slovenian cooperation in the field of international business, was held in Maribor (Republic of Slovenia).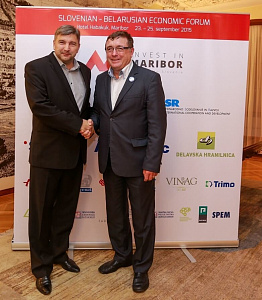 The representatives of Belarusian and Slovenian companies together with public authorities discussed the current situation in Belarus and Slovenia as well as the issues of investment climate of the Republic of Belarus.
There were two representatives from Beleximgarant: Oleg Aniskevich, Deputy General Director, and Konstantin Pavlovskiy, leading specialist of the Export Risks Insurance Department. During the forum they held a working session with the representatives from the export bank of Slovenia SID Banka — Leon Lebar, Director of the Credit and Investment Insurance Department, and Matiash Musich, insurance manager of the Credit and Investment Insurance Department. Following the meeting, SID Banka confirmed its interest in the implementation of investment projects in the Republic of Belarus using mechanisms of insurance and reinsurance together with Eximgarant of Belarus.
On the photo above: Oleg Aniskevich, Deputy Director General, and Andrej Fisztravec, Director of Maribor.