On the 17th of January 2015 the cross-country rally "Dakar 2015" was over. The sports team "MAZSPORTavto", which was officially sponsored by Eximgarant of Belarus, took a 10th place in the competition. Belarusian team participating for the forth time has demonstrated excellent results. All three MAZ cars successfully broke the tape. There were 63 crews participating, 20 of which had dropped out of the race at different stages.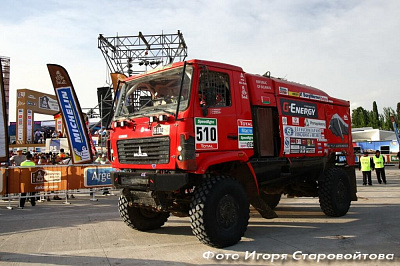 Belarusian crew headed by Aleksandr Vasilevskiy (navigator — Valery Kozlovskiy, engineer — Anton Zaporoshenko) broke the tape on the 10th ranking! This is a record result for the entire period of the participation of the Belarusian team at "Dakar". Please be reminded that with the same line-up last year the crew got 21st place in the overall rankings of the category "trucks".
The crew of Sergey Viazovich took 34th place, the crew of Vladimir Vasilevskiy took 41st place. Congratulations to our racing drivers on the deserved victory!